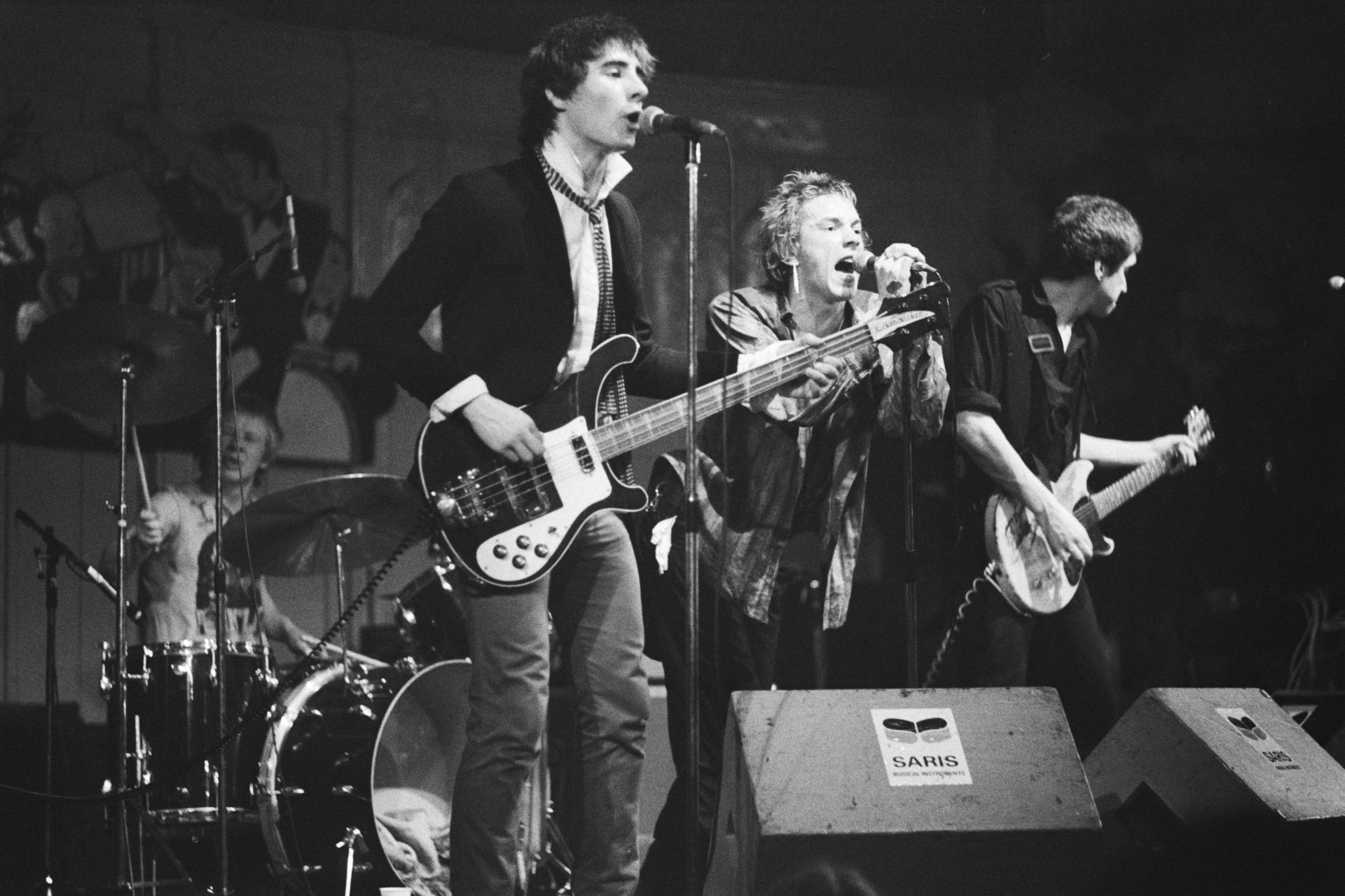 Per le famiglie dei pompieri in sciopero, quello del '77 sarebbe stato un Natale difficile. Infatti senza stipendio, erano razionate le celebrazioni, i regali ed il cibo. Ma qualcosa di magnifico successe quel Natale nell'allegra e vecchia Inghilterra, quando quattro dei peggiori individui del Paese portarono gioia e regali ai pompieri e alle loro famiglie.
Sex Pistols: una band in lista nera
Come noto, i Sex Pistols erano il gruppo più odiato e temuto della nazione. Descritti dalla stampa come la peggior minaccia per i figli delle famiglie inglesi, secondi solo al massacro biblico di Erode, sono stati banditi da ogni locale dell'Inghilterra e finirino addirittura nella lista nera dei servizi segreti britannici. Per molti politici e membri del consiglio, il solo nominare i Sex Pistols avrebbe fatto esplodere le vene delle loro sudaticce fronti.
Ma in quel periodo, più dei Pistols, questi politici (e la stampa che si portavano appresso) temevano i sindacati. In particolare quello dei pompieri, il quale aveva dichiarato sciopero fino a che non si sarebbe raggiunto un incremento del 30% sul salario.
Per due anni i pompieri hanno aspettato che i Laboristi negoziassero un aumento, ma nulla successe.
Con il prezzo del cibo, del carburante e le tasse alle stelle, quello che rimaneva nelle tasche dei lavoratori medi era pressochè niente. Il 14 novembre 1977 cominciò lo sciopero.
Il concerto di beneficienza
Era il 25 dicembre 1977, quando i Sex Pistols suonarono per un concerto di beneficenza a favore delle famiglie dei pompieri scioperanti di Huddersfield, nord Inghilterra. Fu un'iniziativa condotta in segreto. Infatti, se il Consiglio avesse scoperto un concerto dei Pistols (organizzato per di più il giorno di Natale) avrebbe subito chiuso il locale.
Non uno, ma due esibizioni furono programmate per quel giorno: una matineé per i bambini (dove furono distribuiti torta, cibo e regali), della quale Lydon ha poi detto:
Ricordo Huddersfield con molto affetto. Due concerti, una matineé con i bambini che mi lanciavano torte addosso e più tardi, la sera, con i membri del sindacato scioperante. Era il paradiso. C'era un sacco d'amore nell'aria. Fu un gran giorno, semplicemente magnifico
Anche Cook, il batterista, espresse tutto il suo entusiasmo:
Era la nostra festa di Natale. Ci ricordiamo che tutti erano rilassati quel giorno, presi bene, tutti di buon umore per il fatto che era un benefit per i figli dei pompieri che non solo scioperavano in quel periodo, ma avrebbero continuato la protesta a lungo
I Pistols pagarano per tutto e come ricorda uno dei bimbi dell'epoca "you could just have anything you wanted!".
Fu un Natale davvero memorabile, God Save The Pistols!
[su_divider top="no" divider_color="#fbd369″ size="1″]
Articolo uscito su
pleasantscreams.com