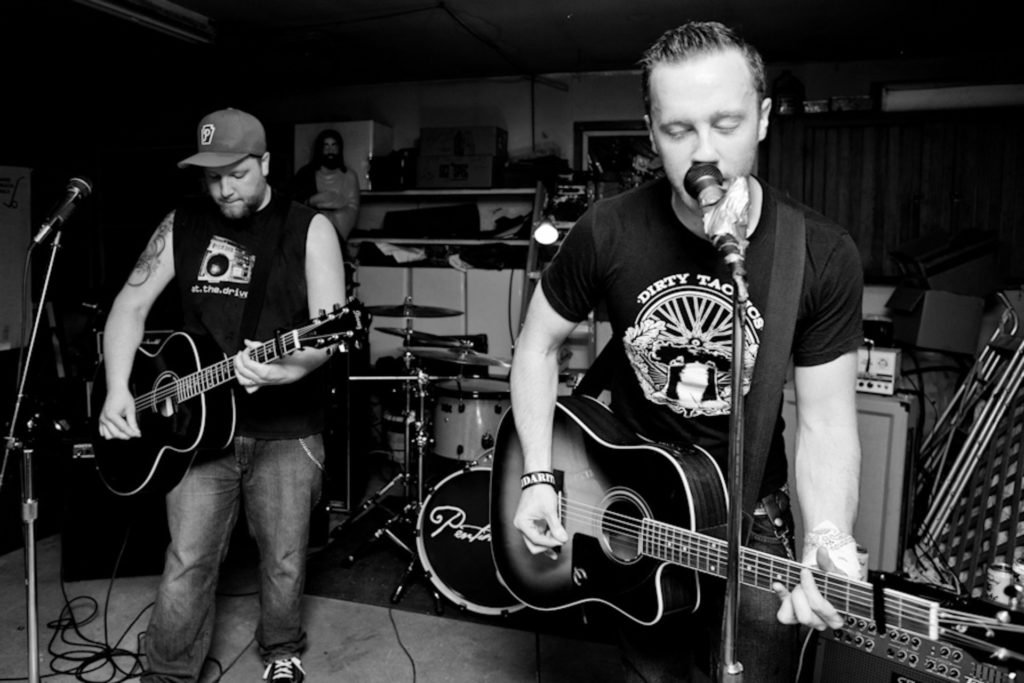 Poco tempo fa stavo ascoltando la compilation di Bearded Punk. Tra pezzi conosciuti e non, inizia una canzone dei Corporate Hearts e alla prima frase coglie la mia attenzione. "Teenage heartache, becomes middle age chest pain". E' un brano acustico, chitarra tagliente, voce aspra. Una frase mi si stampa in mente: "And it's an hard pill to swallow when you take the whole bottle at once".
L'effetto, nel complesso, è stato come quando inizia "Time of Your Life" dei Green Day in Nimrod, ma non è solo questo. Questa sensazione iniziale ha fatto sì che partisse la mia ricerca su di loro, scopro che il loro full-lenght "The Shreds" è disponibile in streaming su bandcamp, testi inclusi.
Quello che era un colpo di fulmine diviene amore puro: nelle loro 10 canzoni c'è tutto, c'è amore, c'è tristezza, c'è la ricerca di sè, c'è depressione, ansia, gioia, davvero tutto.
Corporate Hearts: un duo di Philadelphia
I Corporate Hearts sono un duo di Philadelphia. Il loro repertorio è principalmente acustico, o come si suol definire "acoustic punk", ma non basta questo per definirli. Al primo ascolto di The Shreds tornano alla mente i primi Alkaline Trio a livello di testi, ma anzi oserei dire più Matt Skiba à la "Good Fucking Bye". Ogni tanto mi ricordano gli Andrew Jackson Jihad, spogliati del folk. A tratti sono chiaramante 90s punk, ma senza batteria.
Mi chiedo, nel mio piccolo, perchè non abbiano abbastanza rilievo e come sia possibile in questa famigerata tecno-digital-era che un gruppo così valido non sia conosciuto. Penso, sempre in my humble opinion, che meritino almeno una chance, un ascolto. Ma non passivo, non del tipo sto mettendo in ordine casa e li metto su. Non qualcosa come: ascolto un album in streaming, tanto è gratis, mentre scorro la bacheca di Facebook.
The Shreds
I Corporate Hearts meritano un altro tipo di ascolto, come quando da adolescenti compravamo un disco, lo mettevamo nello stereo, leggendo i testi del booklet. Bisogna assorbirli, far partire la prima canzone dal loro bandcamp, prendersi il tempo che ci vuole per ascoltare le dieci canzoni, leggendosi i testi.
Pezzi come la opening track "Hex" ("I'm your increasingly unwanted pest, but you just can't bring yourself to move out. You try to pretend that I don't exist, but I am here to bring a plague upon your house") o "Waves of Panic" ("Maybe I should not waste my breath, maybe I should talk a little less about death; but the extra noise and the added stress distract from the fact that I don't know what's next") sono il chiaro esempio di come il punk acustico meriti attenzione, di come la fusione tra parole e chitarre generi canzoni che vanno ben oltre all'essere scontati, anzi, tutt'altro.
Quasi abituati, apparte ovviamente per band suis generis, a relegare canzoni così ad un'unica bella traccia in un disco. The Shreds è una sorta di unplugged, è un evergreen, per ogni età e indipendentemente dal proprio percorso personale avrà sempre una nota in cui portersi rispecchiare, una frase che colpisce; qualcosa questo album te lo lascia inevitabilmente dentro.
Ribadendo che lo streaming è gratuito sul loro bandcamp, vi invito caldamente a darci almeno un ascolto.
[su_divider top="no" divider_color="#fbd369″ size="1″]
Articolo uscito su pleasantscreams.com